THIS IS UNOFFICIAL: IT WILL NOT BE PUBLISHED; RATHER, IT WILL BE A WEB-MANGA. Edit
"Michael Vey- The Manga" is a fan-made manga created by Donny Craft alone, and the first volume is planned to be released sometime in 2015.
The manga will consist of the first four parts of the Michael Vey series (all of book 1) and will be at least 200 pages.While details of the manga are low as of now, Donny has confirmed that it will be in full volume, and nothing will be missed from the series.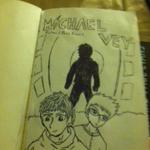 Ad blocker interference detected!
Wikia is a free-to-use site that makes money from advertising. We have a modified experience for viewers using ad blockers

Wikia is not accessible if you've made further modifications. Remove the custom ad blocker rule(s) and the page will load as expected.